Liberty Cap Half Cents
The half cent is the lowest denomination that the United States government has ever struck for circulation. The denomination was introduced in 1793 with the Liberty Cap Half Cent. The series would be struck across two different subtypes, with Liberty facing either to the left or to the right. The final coins of the series were dated 1797, however coins bearing this date would continue to be struck until the next design was introduced in 1800. Although this may seem unusual, it was a common practice for the U.S. Mint during this era.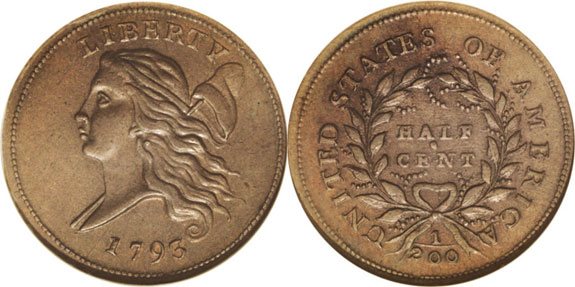 The original obverse design of the Liberty Cap Half Cent features a portrait of Liberty with flowing hair, facing to the left. A pole with a Phrygian cap is behind her. The inscription "LIBERTY" is placed above the head, and the date is placed below. The Phrygian cap, a symbol of freedom and liberty, was first used on this design and would become a prominent feature for many coin designs to follow. By the end of the 18th century, it had become a symbol of the revolution, both in the United States as well as other countries.
The designer of the first subtype has not been confirmed, although some sources suggest Joseph Wright, Henry Voigt, or Adam Eckfeldt. The latter suggestion is based on the fact that he designed the 1792 Half Disme, which features a head of Liberty with many similar features. An inspiration for this design appears to have been the Libertas Americana medal, struck at the Paris Mint during the previous decade.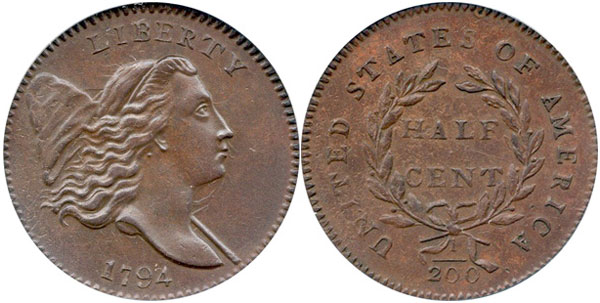 Starting in 1794, a new obverse for the half cent was designed by Robert Scot featuring Liberty facing to the right. Some modification to the details of the face and hair were also apparent. For the remaining years of the series, the obverse would show additional minor differences in detail, relief, and the placement of various elements. Some of these may be considered as separate subtypes. The most noticeable design change was the smaller-sized head found on the issues from 1795 to 1797.
The reverse design, which was used across both subtypes, had first appeared in somewhat modified form on the Wreath Cents struck in the early summer of 1793. An open laurel wreath bound at the base by a ribbon appears at the center with the denomination "HALF CENT" contained within. During the first subtype, the wreath was adorned with strings of berries. The inscription "UNITED STATES OF AMERICA" surrounds the wreath. The denomination indicated as "1/200" appears at the base with numbers of the fraction divided by a horizontal bar. This reverse would be used with only minor differences until a new type was introduced in 1800.
All Liberty Cap Half Cents are scarce, with the majority of the known examples found in lower grades. Higher grade examples are occasionally available and experience robust demand from type set collectors and specialists.